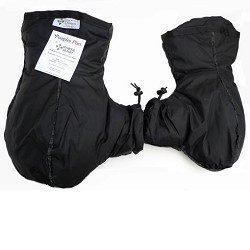 Dogwood Designs Bike Poagies
BPC Product ID:

BPCAC100002

UPC ID:

Manufacturer ID:

POAGIES
---
---
---
---
Description
Poagies are good for most winter riding conditions. They work well in temperatures down to about –15F. They contain a lightweight prequilted polyester insulation along with a lightweight durable waterproof shell. These meet the needs of the vast majority of riders.
Installation and removal is very easy and can be done in seconds. No tools or other equipment is needed and there are no small parts to lose in the snow. Bike Poagies keep the rider's hands warm without interfering with using basic controls on the handlebars. These poagies have enough room to fit over most bar ends. They fit most straight bar types, but will not fit a multi layer bar type.
Poagies were designed for the Alaska market. Riding in subarctic conditions requires special gear such as different lubrication, tires, and Poagies. Riding with heavy mittens is awkward but with Poagies you can ride in winter and have warm hands. As the air temperature cools, you need more protection for your hands. Usually this means wearing a pair of gloves, then 2 pair of gloves, followed by mittens and still your hands get cold. This happens because with each layer, you are actually impairing blood circulation to your hands. The layers fill up the space between your fingers so they can't keep each other warm. There is the added problem of a loss of dexterity with each layer you put on. Poagies work like a sleeping bag does. They create an envelope of warmer air around your hands without compromising circulation. With Poagies, you can ride in most winter conditions without bulking up your hands and the adjustable gussets ensure a wide range of comfort from warmer days to the colder by changing how much air is allowed in or out depend-ing on conditions and how hard the rider is working. The Poagies are made to fit the standard straight handlebar type. They are not made to fit multi layer handlebars. The Poagies are also small enough inside to easily hold in body heat from the hands while they are inside. If you have a standard handlebar, or you will switch to one, then Poagies will be a great benefit to your cold weather biking experience. They are warm, streamlined, and attractive. The Poagies have a flexible, lightweight internal skeleton that holds its shape. They are made with a durable nylon shell and have a polyester insulation with a nylon taffeta lining. There are adjustable forearm gussets to keep out drafts or let air in depending on conditions. They have two attachment points to the handlebars and can be installed or taken off in just a few seconds.